Lovie Talks About Wide Receiver Charles Sims
November 4th, 2014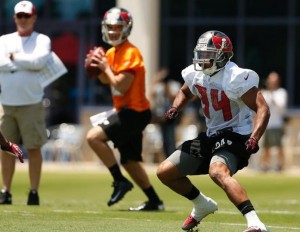 It's a shame rookie running back Charles Sims hasn't seen the gameday field since his August ankle injury.
Sims practiced in pads last week and is, allegedly, almost ready. But where will he line up first?
Lovie Smith made if very clear on his Buccaneers Radio Network show last night that Sims is a dual threat — as a receiver. Lovie likes him out of the backfield "matching up against linebackers, safeties, whatever, or outside lining him up as a wide receiver. We feel like Charles can handle all of those duties well."
This is no real surprise that the Bucs feel this way about Sims, who is known for his silky smooth hands. He was even labeled the "best wide receiver" at West Virginia last season.
Joe has seen Sims' hands in practice, and all Joe can say is the guy is extremely polished at catching the ball. Some of the great-hands stuff really can't be taught. Mike Evans has it, and Sims appears to.
Joe hopes this is the week for Sims to show his stuff, though Joe expects the kid's timing in the passing game to be off. How could it not be?