Judging Josh McCown
November 9th, 2014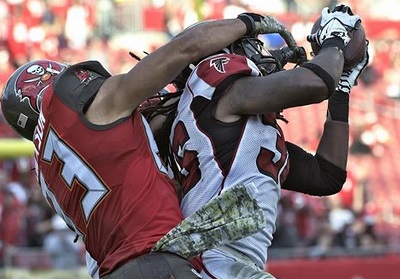 Once upon a time, about six weeks ago, Lovie Smith proudly provided insight into how he evaluates quarterbacks.
"You do judge quarterbacks on what they do late [in games]," Lovie said while he praised Mike Glennon's finishing of the win in Pittsburgh.
So what about Josh McCown's crunch-time screwup today?
Trailing 27-17, the Bucs had 1st-and-goal from the Falcons' 4 yard line with 1:56 remaining and three timeouts. That's a ballgame, folks. Next, McCown tossed a needless and costly interception in the back of the end zone. He threw too low to Vincent Jackson.
The Bucs were in the game, and McCown threw them out of it.
Sure enough, the Bucs then burned those three timeouts, forced a Falcons punt, and McCown underthrew Jackson and was picked off.
In the fourth quarter, McCown was 10-for-13 for 127 yards with a touchdown and two interceptions. He also ate four sacks, some of which should have been throwaways.
Look, Joe judged McCown after the first loss to Atlanta. With an 0-3 record, Joe judged McCown to be the backup for the rest of the season.
Lovie disagreed.
But what does Lovie think now, using his own criteria, "judging quarterbacks on what they do late?" The cold reality is McCown saved his worst mistake for the red zone at a key fourth-quarter moment.
Joe sure hopes it's back to Glennon next Sunday in Washington. There's just no point to continuing the McCown experiment.