Bobby Rainey Seals Starting RB Slot
November 2nd, 2014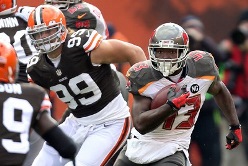 Does anyone really believe Doug Martin should be a starting tailback after what Bobby Rainey did today?
In Joe's eyes, Rainey answered any and all questions about who should be the starting tailback of the Bucs.
Hint: The answer is not Martin.
No, just stop the lazy blame game. The same holes the offensive line opened today are they very same holes that have been there all season for Martin to run through. Instead, Rainey has vision and adjusts and takes advantage of the holes. Martin just puts his head down and tries to bowl over linebackers and linemen, thinking he is the new Mike Alstott or something.
No, the debate is over. Rainey, who had 80 yards in the first half alone, is your new go-to back.
Martin, no doubt, sat on the bench today since he was inactive. He may want to get comfortable there.