Congratulations, Oneil Cousins!
November 2nd, 2014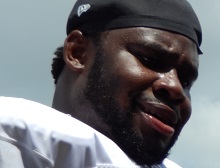 Joe is somewhat stunned that the reason the Bucs lost today had nothing to do with Oneil Cousins, who filled in at left tackle for injured Anthony Collins.
Cousins was the scourge of preseason when he allowed Josh McCown to get pounded like Whac-a-mole. But today he stood tall.
Cousins showed plenty of dog in the running game and did a very solid job keeping Mike Glennon upright. It's not Cousins' fault Glennon threw two high school interceptions.
Before today, Cousins, 30, had nine starts in his journeyman career. The Bucs picked him up in free agency this season and pegged him to replace Davin Joseph after three years in Cleveland. But Cousins proved brutal at left and right guard in preseason games and was buried on the bench.
Kudos to Jason Licht and Lovie Smith for picking up a very good backup left tackle with experience off the street.
It's too bad their big-money pick at starting left tackle is not as impressive.