Blocked Field Goal On Mankins
November 2nd, 2014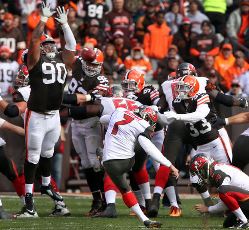 Every small mistake is magnified if it costs points. And Logan Mankins make a ghastly Pop Warner mistake today that very likely cost the Bucs three.
Early in the game, Tampa Bay lined up for a field goal when behemoth Browns defensive lineman Billy Winn hurdled the Bucs' offensive line right over Mankins and blocked the kick.
Mankins never saw what happened. He was looking down coming out of his block, maybe the worst thing an offensive lineman can do. Had Mankins been looking up as he should have, which is taught to toddlers looking to play football, he could have drilled Winn in midair.
Instead, it cost the Bucs three.
That's not what Joe expects from a longtime All-Pro veteran.