Jameis Watch: Point-Shaving Cloud Rolls In
November 10th, 2014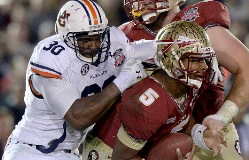 Crab-legs-stealing, BB-gun-shooting, obscenity-hollering, Heisman-Trophy-winning, national champion James Winston, the pride of Florida State University, continues to look like a much better quarterback prospect than Mike Glennon and Josh McCown.
It's Joe's regular nugget on the Jameis Watch, celebrating the best quarterback to wear No. 5 ever in the state of Florida.
Some folks out there seem to think Winston is so damn good he could execute a plan to face what was the No. 1 defense in the nation last month, the Louisville Cardinals, and tank the game intentionally early, before rallying a comeback late — all to help his friend win a few bucks in a bet.
Man, some people think this guy is Superman, or his evil twin, Superfool.
The Orlando Sentinel typed up information on the latest probe into Winston's ties to naughty behavior. FSU head coach Jimbo Fisher reacted recently.
When asked whether the NCAA was investigating the issue, Fisher reiterated, "I just send it to the proper channels."

A post on a gambling-related website first suggested UAB football player Chris Rabb, one of Winston's high school teammates, placed a $5,500 bet FSU would trail Louisville during the first half despite entering the game as the favorite. The Seminoles trailed by two touchdowns at the half. Winston threw two interceptions in the first half and three total, but he went on to pass for 401 yards and three touchdowns, rallying the Seminoles to a 41-32 victory in the second half.
Ahh, point shaving, one of the oldest cons in sports history.
Winston can't be that stupid, right?
Enjoy the highlights below.