Christmas Comes Early For The Hawk
December 24th, 2013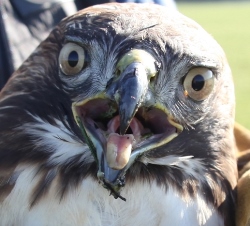 Is Roger Goodell overcome by the spirit of giving?
Dashon Goldson told Joe today that he will not be fined by the NFL for the punishing hit he put on Rams WR Stedman Bailey.The hit drew a personal foul and appeared to be another six-figure fine, and a possible suspension, waiting to happen. But it seems the NFL saw what Joe saw, that Goldson had no reasonable chance to hold up on the receiver who turned into him.
"I would have heard by now if I was getting fined," Goldson told Joe this afternoon.
Goldson said the NFL didn't officially let him know what was wrong with the hit and Bucs coaches didn't pass on any guidance.
"For me, if I don't get fined I know that means they shouldn't have thrown the flag," Goldson said.
Speaking later to a group of reporters, Goldson reiterated what he's said previously, that he's going to keep being himself. Goldson has made subtle adjustments this season but nothing he considers major.
"How do you alter your play?" Goldson asked rhetorically.