Bucs Active In Free Agency — For Coaches
August 9th, 2011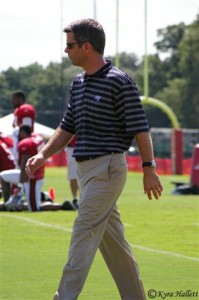 The Bucs' grand master plan seems to equate signing high-priced free agents to a shameful admission of failure.
Fans have heard the Bucs brass say numerous times that missing on a player in the draft means you admit defeat and fill the spot in free agency — or draft a replacement, as was the case with Barrett Ruud.
But the Bucs are eager to dabble in free agency when it comes to coaches, so says rockstar general manager Mark Dominik.
Speaking today to Steve Duemig on WDAE-AM 620, the rockstar talked about the exhaustive no-stone-unturned offseason search for the best available defensive line coaches and shared a story of Keith Millard and Grady Stretz bonding instantly.
When it came to new offensive line coach Pat Morris, Dominik said it was an easy call to hire the man that "has got the utmost respect in the National Football League.".
"I think he was the highest paid offensive line coach in the league last year. And obviously, they made some changes at Minnesota, which made him available. And that was easy. That was a quick phone call," Dominik said. "Let's bring him in here because I think he can really help our squad. Those [other coaching searches] were exhaustive, but at the same point, we felt like we could upgrade our football team. It's not just sometimes talent. It's coaches, too."
So it seems the Bucs have the highest paid O-line in the NFL and the highest paid O-line coach.
As for coaches getting paid, Joe can only imagine what Greg Olson will command if the Bucs have a top-10 offense this year. Joe's pretty certain Olson's contract is up after the season and the Bucs would be nuts to part with him if he has that kind of success.