Ahmad Black Talks To Joe
August 10th, 2011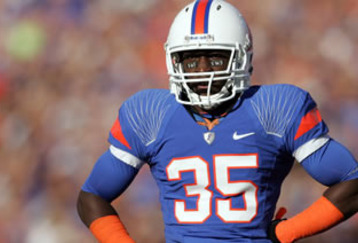 Monday evening after practice, Joe had a chance to touch base with Lakeland native and Bucs rookie safety Ahmad Black. Joe discussed a number of things with Black including how training camp has changed and how he is handling his cram session of learning an NFL defense.
JoeBucsFan: Now that you have been in an NFL camp for a little over a week, what is it like for you? Obviously, the wow-factor is past. I'm sure the shock of finally being in an NFL practice has worn off. Do you just treat practices now like you've got a regular job and going to work?
Ahmad Black: It's just play ball now, it's game week. I treat it like game week. Today was the first week of game week so we are getting the gameplan in and getting ready for Kansas City.
Joe: Since it's game week, what are you doing different today that you or the team weren't doing, say, two days ago?
Black: It's a different attitude towards everything. You could be doing the exact same things but the way you approach things is different.
Joe: The players seem a little more intense than last week, is that one of the things you are saying that is a different approach?
Black: Yeah, this is where you fine tune everything to get ready for Kansas City. It's game week. That's what we are all out here to do: play in a game.
Joe: Has anything surprised you thus far in training camp that you didn't expect?
Black: No, it's pretty much everything I have expected. This is my job, I come out here to do the best I can.
Joe: Now that you have such a short window to get ready for the regular season as a rookie, there were no OTAs, no minicamps. Joe spoke with some offensive rookies and they told me how much the vets have taken them under their wings and have been really proactive about helping out the rookies to make sure they can help them get over that learning curve and try to make things easier if they can. Is it like that with the defense, are guys coming up to you to help out?
Black: Definitely. That's exactly what is happening on defense, too. I try to ask the older guys a lot of questions to make sure I have everything down pat. They have been all really helpful.