Mike Williams Guarantees Playoffs
February 3rd, 2011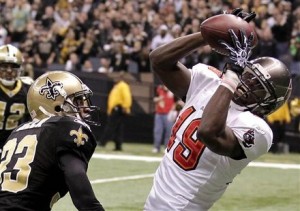 In a declaration sure to conjure memories of Broadway Joe Namath guaranteeing a Jets win before Super Bowl III, Bucs wide receiver Mike Williams is telling the world the Buccaneers are a lock for the playoffs in 2011.
Noted Bill Belichick admirer eye-RAH! Kaufman of The Tampa Tribune took notes while Williams spoke in Dallas.
"We're a young team, but we're guaranteeing the playoffs," said Williams, who was a finalist for the Pepsi NFL Rookie of the Year award, won by Lions defensive tackle Ndamukong Suh. "And if we get in the playoffs, we know we can do some damage."
So there you have it, Williams has planted a pewter and red flag in the sand. It's playoffs for 2011! And he even said "we" are guaranteeing the playoffs, so Joe can surmise he's not alone.
Joe's glad the Bucs players see themselves as Super Bowl contender material.
Joe sincerely hopes Mark Dominik does everything possible this offseason to make the Bucs a Super Bowl team. No reason to be too patient when you're 10-6 with plenty of weapons.