BSPN Type Lauds Morris; Endangers Career
February 4th, 2011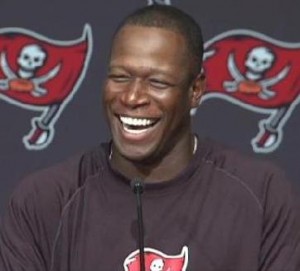 There are many reasons why Joe has BSPN blocked on his DirecTV (though he will watch the network for football and college basketball games). One of which is the producers and suits who indoctrinate the innocent have their heads so far up a handful of northeastern teams' collective arses (including the Patriots) they wouldn't know the difference from a blue sky and, well, a septic tank.
So Joe's eyebrows were raised when he read a Twittering from Ross Tucker, a man Joe knows from his solid work on Sirius NFL Radio, who mocked the choice of Bill Belicheat for NFL coach of the year over Raheem Morris.
@RossTuckerNFL: Didn't get a vote for Coach of Year but would have voted for Raheem Morris. Lots of worthy candidates but young Bucs 10-6 is crazy.
Whoa!
Now Joe knows Tucker, a journeyman offensive lineman who nearly became a Bucs player, has a degree from Princeton, but even a guy with a community college degree would know that not goosestepping in line with the edicts of the Soviet Disney Mice will surely get one thrown out on the street like a common vagrant. Tucker writes a column for BSPN.
Tucker better hope his salary from Sirius NFL Radio is sufficient. Or he better delete that Twittering before the wrong set of Bolshevik eyes reads it.