First Of The Postseason Honors
January 3rd, 2011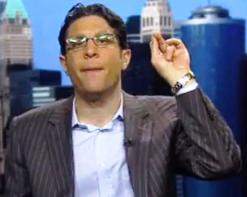 The Bucs season wasn't even over — the Giants and Packers were losing at the time — when the first of what many postseason honors may come the Bucs way.
Twittering from the concrete canyons that is Manhattan, Sirius NFL Radio host and FoxSports.com NFL talking head Adam Schein gave out his first postseason award.
And the recipient was Bucs coach Raheem Morris.
@AdamSchein: raheem morris, my 2010 nfl coach of the year.
How can anyone argue with that? Raheem took a three-win team, turned the franchise around using bailing wire, duct tape and gum with all the injuries and rookies, and thumped the Super Bowl champs in their own crib to end the season.
There's not doubt in Joe's eyes who is the NFL coach of the year.
Raheem Morris.