Peter King Drops A No. 9 On The Bucs
January 3rd, 2011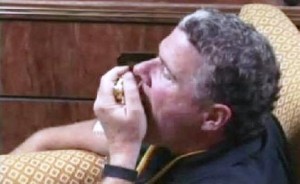 Oatmeal-slurping, popcorn-shoveling NFL super scribe Peter King, of Sports Illustrated and NBC Sports, spit up his infamous 2-12 prediction for the Bucs along with his other season gaffes this morning in his Monday Morning Quarterback column.
In my worst display of prognosticating since, well, since John Fox, I said the Bucs would finish with the worst record in the league (2-14). Tampa Bay won 10 and was in playoff contention until Sunday afternoon.

And that, dear readers, is why they pay me the big bucks.
Well, that was nice to read. Keep up your endless research, Peter. Just don't pick the Bucs to make the playoffs next season, that would concern Joe.
In King's final rankings of all NFL teams, the Bucs checked in at No. 9.
9. Tampa Bay (10-6). There are a few coaches who are glad they don't have to face the Bucs in the playoffs. What a handful. And let's put it out there right now: I love Josh Freeman. What a treat it'll be to watch him play over the next 10 years.
Ugh. How painful is to sit at No. 9 and be home for the playoffs.
Raheem Morris told his team in the locker room, per NFL Network video, that they should remember the feeling running through them now as it relates to 10 wins not being enough. Joe hopes this makes the Bucs hungrier than they were this season.