Bucs, Giants Out; Packers Make Playoffs
January 2nd, 2011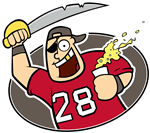 Joe hates to even acknowledge this, but the Packers have gotten past the Bears this afternoon and made the playoffs. The Bucs (10-6) and Giants (10-6) are going home empty.
Still sick about losing to the Lions two weeks ago, Joe's teetering back and forth between feeling great about the Bucs and their great strides this season and agonizing about what could have been with a win against Detroit.
The Bucs would be heading to Seattle or St. Louis next week.
Oh, well. Nothing a few evening cocktails can't soothe.