Briscoe Steps Up Big
January 2nd, 2011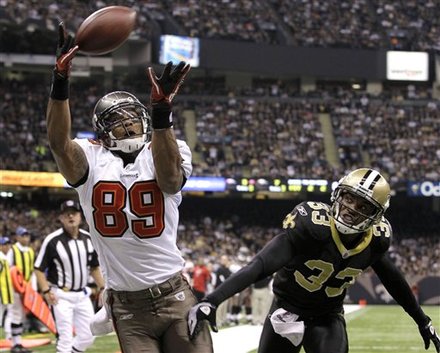 And with the season on the line who was the Bucs leading receiver in the thrashing of the Saints?
Dezmon Briscoe.
The success of this whole next-man-up thing the Bucs have working keeps boggling Joe's mind. It's to the point where you have to assume a guy is talented as hell if he's on the Bucs roster.
Briscoe is a 21-year-old Mark Dominik rookie special snatched off the Bengals practice squad a few weeks ago, a move that made Cincinnati head coach Marvin Lewis cry like a baby.
After getting his feet wet with two catches last week against Seattle, Briscoe ripped off four catches and one of the sickest grabs of the Bucs season in the end zone on a fade route for the Bucs first touchdown today.
Joe is pretty confident the Bucs now will wash their hands of Maurice Stovall. Minus Stovall, here's the receiving corps:
Mike Williams
Arrelious Benn (returning from injury)
Sammie Stroughter
Preston Parker
Dezmon Briscoe
Micheal Spurlock
Maybe the Bucs snag a solid free agent receiver as insurance in case Benn isn't ready for next season.