Raheem Morris Outcoached A Hall Of Famer
November 23rd, 2010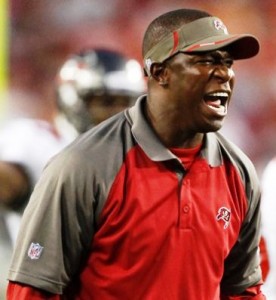 The fact Bucs held superstar 49ers running back Frank Gore to 23 yards and sacked 49ers quarterback Troy Smith six times, despite both the Bucs rush defense being putrid and pressure on the quarterback virtually non-existent entering the game, proved Raheem Morris had one of the best Bucs gameplans Joe has ever seen.
It was the best since Chucky crafted a plan to shut down Rich Gannon in the Super Bowl.
It was the kind of a performance that usually gets the opposing coach run, especially when said coach is hanging on to his job by a thread. Niners coach Mike Singletary made no bones about it. Raheem shamed him as a coach, so reports Kevin Lynch in the San Francisco Chronicle.
Singletary said he led the team, and he motivated his players, but that he didn't prepare them. He also admitted that the Buccaneers didn't do what they expected. He also said that the coaches didn't adjust well. He admitted that receivers ran wrong routes. … By his own admission, Singletary is saying he hasn't coached well. Can anyone argue with that?
Joe was surprised Singletary lasted to midnight Sunday night still employed. The Bucs shut out of the 49ers was the first time San Francisco was shut out at home in 33 years, a stunning factoid.