Cody Grimm Has Solved Bucs' Rush Defense
November 23rd, 2010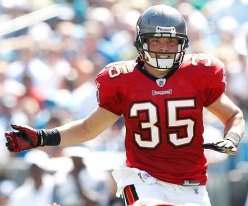 There are many things Joe enjoys about listening to his good friend Justin Pawlowski of WDAE-AM 620, many of which is his interesting if not unique perspective on the Bucs.
In his weekly "What I Learned About The Bucs," Pawlowski — like Joe, shocked at how the Bucs held Frank Gore to a mere 23 yards — believes the secret weapon to the Bucs new-found rush defense is rookie safety Cody Grimm.
I learned that Cody Grimm might be the answer to the Bucs run defense woes. Although it takes away from the pass defense, having Grimm as the 8th man in the box completely shut down the 49ers rushing attack. Grimm is one of the best tackling safeties the Bucs have had in a long time. At the beginning of the year, the Bucs couldn't run the ball on offense or stop the run on defense. Hopefully, Sunday was the first step on defense. Good luck against Ray Rice, Willis McGahee, and the Ravens.
Joe knows Grimm made sticks in the win at San Francisco that would have made Dick Butkus stand on his crippled knees and applaud. The dude was a heat-seeking missile out there against the run.
Joe wrote this before and will write it again: The gameplan Raheem Morris came up with Sunday was one of the best Joe has ever seen since he started following the Bucs in the John McKay days.