Raheem Morris Speaks
October 15th, 2010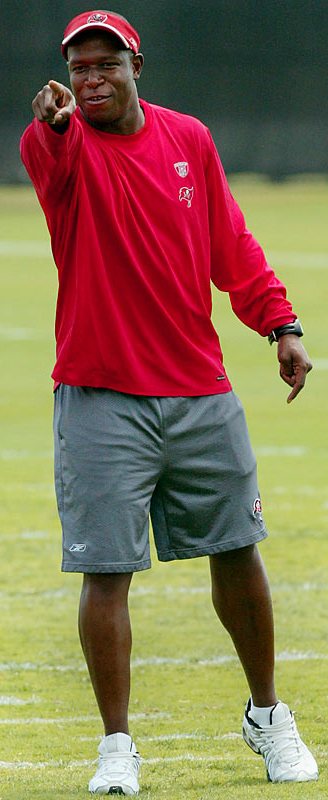 Raheem Morris took a break out of his busy day earlier this week readying the Bucs for their game this Sunday with the defending Super Bowl champions to appear on perhaps the only Yiddish sports radio show Joe has heard of, "The King David Show," with former Bucs quarterback Shaun King and Toby David heard locally on WQYK-AM 1010.
Shaun King: I was one of the only ones who was waving the Bucs flag saying you could be successful this year.
Raheem Morris: Don't worry Shaun, you are one of us.
King: What is the difference this year?
Morris: The guys in the building. They are dedicated. We wanted to play together, grow together. We are not there yet but the confidence is helping us. We are getting there. We feel good about it.
Toby David: There's a lot of negativity from the media and the fans. How do you silence the critics?
Morris: We haven't done that yet. We are young, humble and keep fighting. We are not worried about the critics. I pride myself in not listening to the critics. We do it our way which is the best for the Tampa Bay Buccaneers.
King: You speak of your youth movement. You have a young quarterback. Tell us about Josh.
Morris: He is young. You don't want to get ahead of yourself. He's done a great job of what he has been able to do. He is wise and he is clutch but you have to continue to grow and get better every week. Once you say you have it, that's when you don't. His leadership role is coming out more and more every week. He is demanding more from his receivers and his teammates and that is the process you have to go through to be great.
King: What Bucs fans would like to know is how you were able to get Mike Williams [so late in the draft]? Tell us about Mike Williams.
Morris: He has done a good job. Got to give credit to the scouting department, Dennis Dickey and Doug Williams was around at the time, and Mark Dominik. They did the research and they did the digging. I also give a lot of credit to [Williams] for letting us get that personal and let us dig like that. But he has put himself into position to be successful. I am very high on him. He works hard every week but we have to continue to push him.
King: I know you have a couple of rookie tackles and it's hard for rookie tackles. Ndamukong Suh was drafted right before Gerald McCoy. Suh has 18 tackles. McCoy and Brian Price have combined for nine. How hard has it been for those two to get acclimated?
Morris: Winning is part of that. If you aren't winning, you are more worried about stats. Price came on slower because of his hamstring injury but he is coming on and getting stronger. They will take us to the new millennium of this Tampa-2 defense. It's exciting where we can go with them.
King: The run defense is 30th in the league. How do you get better?
Morris: Practice. We have to go every single day and work at it. Look who is running the ball on us. Look at our gap. What is hurting us is giving up huge running plays and not being explosive on offense. Those are some things we have to get better at.
King: You have two white guys starting at safety Sunday. We need a nickname for them. How about "Bruise Brothers" and you dress them up in hats and all black and sunglasses?
Morris: [Laughs] Cody had a splash play. He's doing some good things. I'll let you guys come up with the nicknames. I loved how Sabby has been able to bounce back but we want him to play better. I'm looking forward to the effort I am getting from my young football team.