"A Thing That Brought Our Team Together"
October 12th, 2010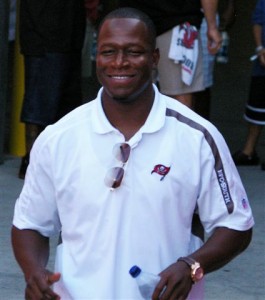 Sabby Piscitelli fans, assuming there are some, were in full celebration Sunday, as their guy had the Bucs' big interception to set up the winning score in Cincinnati.
Joe even gave Sabby the game ball, although it was clear Sabby didn't play well before that game-changing play.
On Monday, Raheem Morris elaborated on Piscitelli's demotion and how Sabby's immature, angry response before opening day was a teaching moment for his young Bucs. Morris spoke on The Raheem Morris Show on WDAE-AM 620.
"[Sabby] put it out in public and it became kind of a thing that brought our team together," Morris said. "It was a great example for me to use for our team. It was a great example for me to use for our guys. It took him a while to get out of his funk. He's been in my office. We have a dynamic and unbelievable relationship. And that's the beauty of this whole thing for me to watch him get that pick yesterday and his whole team tackle him and beat him up underneath the stands. And absoulutely have a ball with him."
Joe would have been happy to dive on Sabby and smack him around a bit, too. Joe sincerely hopes Sabby didn't pay for any beers on Sunday night.
But, back to reality, Joe's very glad starting safety Sean Jones is on track to return for Sunday's home game against New Orleans.