Bidding On Bashaud Breeland
February 12th, 2018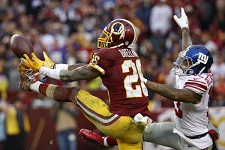 The thought of the Buccaneers bidding on a Redskins free agent again is enough to induce palpitations, nausea and/or the desire to molest a palm tree.
Lets call it Swaggyitis.
Regardless, Bucs officials and fans should be able to look past the sting of failed Redskins turned Buccaneers. If general manager Jason Licht and friends can do that, then they'll sniff a likely free agent cornerback named Bashaud Breeland.
The Redskins are in a pickle. They're paying Josh Norman's monstrous salary to play corner opposite Breeland, a 2014 fourth-round pick. Now it's time for Breeland to get paid and Washington probably won't spent all that cash at one position.
Ironically, Breeland, 26, was mentored as a rookie by then-Skins defensive backs coach Raheem Morris, the former Bucs head coach who was known as a guru of cornerbacks and safeties coaches before Tampa Bay promoted him. Breeland has been known for his work ethic, and as a guy with first-round talent who left Clemson early to support his family.
Breeland is no superstar, but he is a legitimate and durable starting corner. He would start for most teams in the NFL.
For those not paying attention — or for those who believe in Vernon Hargreaves miracles — the Bucs are now in desperate need of a starting cornerback. Hopefully, Brent Grimes and Robert McClain are re-signed before the free agency dinner bell rings in 30 days. If not, the Bucs have to act swiftly at the position.