Giants At Buccaneers, October 1 (Week 4)
April 20th, 2017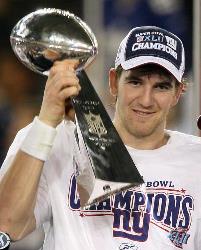 What would the Schedule Day holiday be without a leak prior to the official announcement?
[Updated 5:54 p.m.: Click "read more" for fresh schedule rumors/reports!]?
Well, it just wouldn't be Schedule Day.
Per WFAN-AM 660, the powerful CBS affiliate in New York, the Giants play at the Buccaneers on Sunday, October 1, Week 4 of the 2017 schedule.
This isn't just a one-off leak, CBS has the entire Giants schedule here.
The whole schedule is revealed tonight at 8 p.m.
As for the Giants, well, that's a brutally tough game early. Joe's hoping the schedule gods give the Bucs at least one "easy" one during Weeks 1 through 3.
[Updated: 3:03 p.m.: Joe is hearing from a good friend, but cannot confirm, Bucs at Buffalo Oct. 22]
[Updated: 3:52 p.m.: – Looks like Saints open in Minnesota and Chicago is in Atlanta to start the season, plus the Jets are in Buffalo and New England is in Kansas City. The Panthers, per reports, are off to the 49ers and the Bucs play at Green Bay in December. All those teams on the Bucs' schedule. So that cuts the possible Bucs opening-day opponent to Arizona (road), Detroit (home) or Miami (road).
[Updated 3:56 p.m.] Per Brad Biggs of the Chicago Tribune, the Bucs will host the Bears Sept. 17.
[Updated 4:40 p.m.] Luke Easterling of USA Today claims the Bucs play at the Dolphins to open the 2017 season.
[Updated: 4:46 p.m.] J.P. Peterson of WDAE-AM 620 reports the Bucs will host the Belicheats on Thursday Night Football, Oct. 5.
[Updated: 4:54 p.m.] J.P. Peterson has further updates: At Vikings, Sept. 25; at Cardinals, Oct. 15.