"You Gotta Have A Feel For The Game"
September 2nd, 2014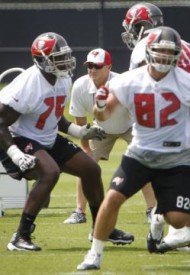 Tampa Bay offensive coordinator Jeff Tedford isn't working at the office yet, and the artist might not be available for the home opener on Sunday.
That would be a significant problem explains one former Buccaneer.
Buccaneers Radio Network analyst Anthony Becht said he isn't concerned about Tedford's health-related absence during the week of preparation for the Panthers but it is a problem for game day.
Becht, speaking on WDAE-AM 620 this morning, talked about how having a feel your players and what plays are working perfectly are critical to success talked. Tedford can't learn everything he needs to know from practice film.
"It's not as simple as just putting a play down for 3rd-and-5. You gotta have a feel for the game," Becht said. "Lovie's gotta feel a little uneasy about how it's going to be gameday.
Becht is skeptical if playcalling duties Sunday fall into the lap of 34-year-old quarterbacks coach Marcus Arroyo, a longtime Tedford man who was offensive coordinator at Wyoming and Southern Mississippi.
Joe agrees, especially as it relates to being in sync with Josh McCown.
As general manager Jason Licht said weeks ago, Tedford is an "artist" whose strength is adapting.
"He's very innovative. He's incredibly smart, and he's got an artists type of mind," Licht said of Tedford. "And when I mean artist, I mean NFL as a creative playcaller. And I think what separates him, or what makes him a great coach, is he's got a great system, but he's able to adapt his system to fit his personnel. And if you can't do that, then you're going to fail. The great coaches are able to change their system to fit their personnel. He's one of those guys."
Can Tedford be himself on Sunday against the mighty Panthers defense? If he's even there?