Gerald McCoy Welcomes A Threesome
September 2nd, 2014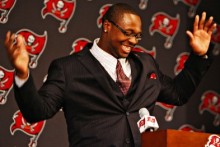 Film don't lie. Go back and watch film of Carolina-Tampa Bay games last year and you'll see Gerald McCoy getting triple-teamed — when he's not getting double-teamed.
Joe asked McCoy about whether he expects the same treatment on Sunday, and McCoy had a lot to say.
"I don't care. It is what it is. Buffalo tried the same thing. You seen what happened. So, if they want to try it, then go-ahead. It is what it is.

"I'm not trying to play for myself. I play to get triple-teamed. I play so I make my teammates better. That's one thing [Sapp] always talks about, 'Are you making the people around you better?' That's one thing he did. That's one thing I'm working for. I want everybody around me to be great. It's not about me. It's about everybody around me."
Hello, Michael Johnson! It's time to show up in a big way.
Yes, Johnson had a strip during an Adrian Clayborn sack against Buffalo. Great play. But Johnson will have all kinds of 1-on-1 pass rush opportunities this season. The Bucs are paying him to get at least 10 sacks and take some heat off McCoy.
As for McCoy's attitude, you have to love it. The man needs a cape with a big "S" on it.