"He Just Wants The Young Guys' Best Interest"
June 24th, 2014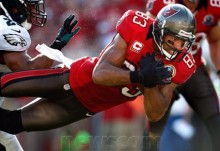 Joe hates to get all conspiratorial, but Joe's a bit fascinated by the predicament of Vincent Jackson.
At 31 years old, Jackson has a non-guaranteed base salary of about $10 million dollars for next season. But now he's expected to groom, mold and mentor 20-year-old rookie Mike Evans, who could soon replace him.
Thankfully, it seems Jackson sees no conflict of interest.
Speaking on SiriusXM NFL Radio last night to Alex Marvez and legendary personnel guru, "The Godfather," Gil Brandt, Evans explained that Jackson is a joy to work under and he's a better man than teammate. But that was no slight on the veteran's leadership. "He just wants the young guys' best interest," Evans said of how Jackson treats the Bucs' receivers.
Evans went on to say he hopes he can accomplish half of what Jackson has in his career.
Of course, Bucs fans expect a lot more from Evans. But the point was clear. Jackson is making a positive impact on Evans, just like he seemed to do for mattress-in-the-yard, blade-in-the-thigh young receiver Mike Williams back in 2012.
Brandt, the legendary former Cowboys general manager, also reiterated that Evans' Pro Day this spring was one of the greatest performances he's ever seen. Brandt also jokingly referred to Evans as "the guy that made [Johnny] Manziel."
On a more serious note, when asked how good Evans can be for the Bucs, Brandt said, "Ask Alabama. They'll tell you." In 2013, Evans torched Nick Saban and the Crimson Tide for 279 yards on just seven receptions.