"I Train At It Constantly"
June 24th, 2014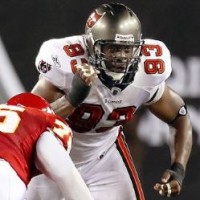 In addition to ongoing charity work Joe referenced yesterday, Gerald McCoy spends his offseason improving what he calls his greatest asset.
Offensive linemen know it well.
Per McCoy, that asset is his first step. His get-off.
McCoy, speaking recently on Oklahoma sports radio in a segment sponsored the "Pork Council," was clear he believes his quick twitch explosion is "God given," however, McCoy said he focuses on it through the offseason to make it as elite as it can be. "I train at it constantly," McCoy said.
It's all about the body for McCoy, he explained, saying his greatest lesson of his injury riddled first two years was to do everything he could to avoid injury when it's not a game or hitting practice, from rest to various preventative and strengthening techniques.
Hardcore McCoy fans know he heads to San Diego for a stretch to train with renowned Todd Durkin and often works with Drew Brees and Darren Sproles there. McCoy also has talked previously about a unique stretching regimen and back strengthening routine he discovered after his 2011 injury.
During this recent interview, McCoy said it's clear on every NFL team what guys take care of their body when they're not at work, and what guys don't.
On the offseason offensive overhaul of the Lovie Smith regime, McCoy said it showed the world that Lovie is not just a defensive head coach and knows how the NFL works. "If you can't put no points on the board, it won't matter."
Apparently, that 32nd ranked offense didn't sit well with No. 93.