Mike Evans Opens Eyes And Bores
May 16th, 2014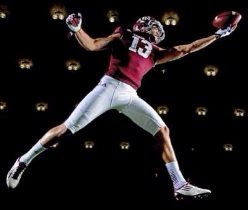 The Joes just happened to be sitting at a table on the backyard patio at One Buc Palace that faces the practices fields today. One Joe just happened to have his binoculars focused on first round draft pick wide receiver Mike Evans, fortunately.
The other Joe was watching with the naked eye.
So Evans runs a seam route from the right to the left and rookie quarterback Brett Smith of Wyoming and his linguini arm tossed a terribly overthrown pass to Evans.
It didn't matter. Evans looked like Grant Hill skying for a tomahawk dunk, not even trying to catch the pass with two hands, reaching out with his right arm, plucking the ball in midair as if he was picking apples, effortlessly pulling the ball back to his body as he continued his route smoothly for a touchdown catch and run.
And what a catch it was. The way everybody watching the play audibly oohed and aahhed, it was as if Rachel Watson just appeared on the patio in a scantily-clad bikini fresh from a day of bronzing at the beach.
If Joe has witnessed a better catch in Bucs practice, he cannot recall it. In the very first practice reporters got a chance to watch Evans, he made a lasting impression.
Bucs coach Lovie Smith tried to deadpan the catch, claiming he was making equally acrobatic catches all week this week. Another man who seemed to shrug at Evans' catch was Nate Askew. The undrafted free agent, Askew was Evans' teammate at Texas A&M, and was also a wide receiver who later was converted to linebacker.
Askew didn't really raise much of an eyebrow about the catch because, well, he's seen Evans do that so many times before.
"Definitely, definitely, [Evans] was drafted in the first round for a reason," Askew said of Evans' catch. "That guy continues to make plays like that all the time. And it translates out on the field.

"Those 50/50 balls were always his. We got spoiled a little bit because he always made the play. Mike is an athlete. He grew up as a basketball player and started football late. It shows up on the field. It helps him out."
Joe can type the following without second-guessing: If Evans makes those types of plays in games this year, ticketholders will be getting every dime of entertainment they paid for.