Owusu Remains In The Mix
April 3rd, 2014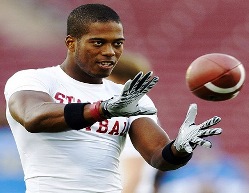 One thing Lovie Smith made clear last week was that any New Schiano Order Buccaneer still on the roster is someone his new regime believes has qualities that could help the team.
Entering his third Bucs season, Chris Owusu remains in the mix after turning 24 years old in January.
Undrafted in 2012 out of Stanford following a series of concussions, Owusu was on the Chargers' practice squad before being plucked for the Bucs' 53-man roster by former rockstar general manager Mark Dominik. Owusu never did much for the Bucs. He starred in training camp last season before suffering an unfortunate ankle injury in the preseason opener, after some dropped passes in that game.
He caught 13 balls last season, all during the woebegone Mike Glennon era.
Owusu, who Joe almost forgot about, is noteworthy in that he flashed 4.3 speed at the 2012 NFL Scouting Combine and should have fresh legs now. One of the few things known about the Bucs' mysterious offense is that coordinator Jeff Tedford craves "speed in space."
Joe hardly sees Owusu as a savior — or a strong receiver — but his shot to make the team is alive given how thin the Bucs are at the position. Hopefully, Owusu will get over his soccer chills in time for the first Bucs workouts of the year next week.