Josh Freeman Not A Leader?
April 8th, 2014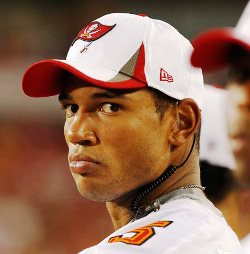 Much was made last year when leaky, sleepy Rip Van Freeman was not retained as a captain of the Bucs. It is highly rare when an established starting quarterback is not a captain of an NFL team.
Of course, someone (Freeman's camp?) threw out the notion that the vote on team captains was rigged by then-Bucs commander Greg Schiano. Joe will not discuss the exact conversation Joe had privately last year with Schiano, but trust Joe when he types that Schiano was completely outraged by the suggestion that he loaded the ballot box to have Freeman dethroned.
Well, here is some evidence that points to Schiano's innocence. Today, select Bucs players are being made available for interviews and the second player was Bucs kicker Connor Barth. When asked about what is different this season with the new coaching staff and over a dozen new players (so far), Barth said "I can already tell there is a different demeanor in here."
Joe then asked a follow-up about what was different about the demeanor and Barth responded with the following quote:
"You can just tell," Barth said. "Having a veteran guy in like Josh [McCown], he brings more of a leadership role. You can just tell the difference in that perspective because you want your quarterback to be a leader. It's great seeing the guys come together. It's just different around here."
Imagine that, a quarterback being a leader; your starting quarterback being a leader. How about that?
Yes, Schiano caught all kinds of hell from fans, and some of it was justified, just look at his record. But it sure smells like Freeman was all but forced on Schiano and it got to a point where Schiano just could not tolerate the monkey business any longer.
And people wonder why Rip Van Freeman is still unemployed?
As far as Barth's health, he said he is just fine and hopes to have an even stronger leg than he had before his torn Achilles suffered at a charity basketball game prior to last season.
Barth said he is already kicking 60-yard field goals back at home.