"Cool Vibe" Vs. Whip Cracking
April 8th, 2014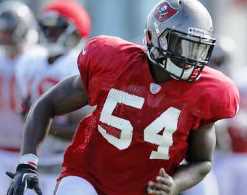 Lavonte David was loose and relaxed talking to media today, more than Joe's ever seen him.
David said he couldn't believe how "cool" Lovie Smith is and how the "cool vibe" around the organization is a refreshing change.
David even joked that all the assistant coaches seem to be just like Lovie, especially Bucs icon Hardy Nickerson, his new position coach.
"All of them have the same personality. It's weird," David said. Nobody's a rah-rah guy. "Everbody's cool, chill and ready to get after it."
No. 54 also painted Lovie as the anti-Schiano.
Reporter: What's the biggest difference between him and Schiano?

Lavonte David: Quiet guy. Laid back type guy. Cool. You know, he's all about respect. You know, all about you give respect and you're going to receive respect and just be all about being a professional.
Nickerson's long history as a top player in the NFL, as well as Derrick Brooks' endorsement of Nickerson, really has David hungry to learn. As David said, his notebook will get a workout in every meeting.
Regarding that Schiano discipline. Joe found it interesting that Vincent Jackson said Greg Schiano and Lovie bring a similar discipline focus on and off the field.