Rumors Rampant Of Ron Cooper's Departure
January 9th, 2013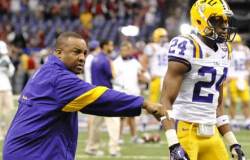 OK, this merits keeping an eye on. Though Joe cannot confirm embattled Bucs defensive backs coach Ron Cooper is leaving the team, neither can Joe confirm the rumors flying tonight on the Internet and on radio airwaves late this afternoon that Cooper is on his way out are inaccurate.
Bucs beat writer Rick Stroud of the Tampa Bay Times apparently heard the same rumors and seemed to add credibility to the suggestion that Cooper and the Bucs are parting ways.
@NFLSTROUD: No final decisions have been made or announced, but indications are the Bucs will allow DBs coach Ron Cooper to explore other opportunities
Again, Joe has been working the phone for the past two hours to try to confirm Cooper is gone. Joe cannot, but more importantly, Joe cannot confirm the Cooper-leaving-Bucs whispers are inaccurate.
Simply put, Joe still has not fully recovered from the acid reflux episode caused by watching Cooper's defensive backs get blowtorched game in and game out this season.
Joe is not a "fire him" kinda guy. But how in the world can anyone try to sell that Cooper did a good job when his defensive backs came 14 yards shy of setting a 93-year record for NFL pass defense futility? How does Bucs coach Greg Schiano speak to Team Glazer and/or Bucs rock star general manager Mark Dominik with a straight face and say, "Oh, the job we did coaching up the defensive backs, OK, we're good."
The last measuring stick of Cooper's job with the Bucs this year was this: name a defensive back that improved as the season wore on.
Joe cannot, and therein lies a damning statement for any coach.