Michael Bennett One Unhappy Camper
December 23rd, 2012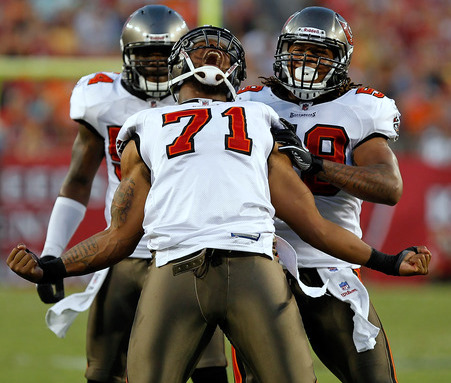 If Bucs fans think players don't care that much if they lose so long as the check cashes, then they don't know Michael Bennett.
The Bucs defensive end was outraged after the Bucs lost their fifth straight game Sunday, this time to the Rams, squandering perhaps the team's best defensive effort.
Joe had his recorder rolling for part of Bennett's emotional venting.
"We didn't win the game. It can't be the best of the season if we didn't win the game; we're here to win the game. That's all we care about, to win the game. No matter what we did on defense, no matter what we did on offense, we have to win the game. That's the biggest thing we have to do.
On the Rams 80-yard touchdown pass to open the second quarter:
"It was a breakdown but as a team, those things happen. We have a lot of veterans playing and things happen but you have to keep playing. You can't let one play define you. We had many opportunities to change the game. But we didn't step up.
"The coaches who came up with this game plan, it isn't up to the coaches. People say coaches this and coaches that, it's not up to the coaches. It's the players. We have to execute what the coaches do at a high level. This is the NFL so we have to execute on Sundays, not Mondays, not not Wednesdays, not Fridays not Saturdays.
"Maybe we need to score a touchdown?"