Adam Schein And The Bucs
November 14th, 2012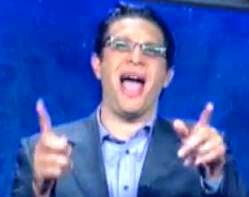 OK Bucs fans, Joe's hoping you are somewhat awake and have had your requisite morning caffeine. Please put down all liquid containers before you read the next sentence.
Adam Schein gave Bucs coach Greg Schiano a virtual wet kiss on NFL.com yesterday.
In a laudatory piece by the popular sports radio personality, Schiano stops just short of calling the Bucs a model franchise in the NFL and suggests that because of the success of Schiano, NFL front offices are already scouring the college ranks, hunting for the next Schiano to turn around their program.
The Bucs are back. Tampa Bay has scored 28 points or more in five consecutive games for the first time in franchise history. The Buccaneers punished the San Diego Chargers last Sunday on offense, defense and special teams en route to their fifth win of the season. The 5-4 Bucs are dangerous and very much in the mix for an NFC wild-card berth.

Schiano's fingerprints are all over the turnaround.

Last year, the Bucs quit on Raheem Morris in embarrassing fashion, and the overwhelmed former "coach" couldn't stop the bleeding. The 2012 version of the Bucs, meanwhile, is the NFL's most improved squad on offense (the team's points-per-game average jumped from 17.9 in 2011 to a whopping 28.9) and defense (opponents averaged an unacceptable 30.9 per game in 2011; that number is now down to 23.2, or about a touchdown's worth).
While all of this is great, it still rankles Joe to remember how the Bucs gave away games to the Giants and Saints, and they had a win against the Redskins in their grasps.
The Bucs could have very easily been 8-1 and tied for first place in the NFC South. Damnit.
But still, Joe is counting his blessings. Look, the Bucs should beat Carolina this weekend and that means the Bucs will be 6-4 entering Thanksgiving Weekend. No one, not even the most drunken of fans in a bar, would have predicted that before the season.
Does all the credit go to Schiano for the turnaround? No, but you are damned straight most of it should.