Tristan Wirfs Talks Shin Injury, Lost "Flame"
November 16th, 2023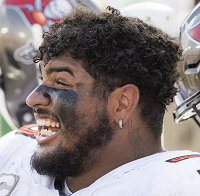 All-World Bucs left/right tackle Tristan Wirfs draws a hard line at four feet.
Around the time Wirfs was drafted in 2020, video circulated of Wirfs jumping out of a full swimming pool without the aid of a rocket launcher or springs in his shoes.
Then Wirfs did it again that summer, a move that had locals peeling off their masks and latex gloves and embracing what might happen on the field when Wirfs' rookie season began.
Speaking on The Pat McAfee Show today, Wirfs explained he's retired from that feat of strength. The videos were of Wirfs jumping from the pools' 3 1/2-foot shallow area, he said. Wirfs explained that he tried emerging from a four-foot depth but "I scraped the sh*t out of my shins. That's kind of when I hung up [pool jumping]."
Joe is glad Wirfs has stopped the pool jumping. No need for an injury. It's scary enough to think of Wirfs squatting 565 pounds regularly in the summer (a sweet spot for his preseason workouts with Luke Goedeke, Wirfs said.). Heaven forbid his back or knees blow out.
Interestingly, Wirfs talked about the 2023 Bucs season and how the team was sort of thrown off course by their Week 5 bye.
"It kind of blew that flame out we had for a little bit," Wirfs said.
That's not the first time Joe has heard the early bye week referenced as something that knocked the wind out of the Bucs. Joe's not sure how that happens to a team loaded with veteran players and coaches of a Super Bowl team, but it apparently did.