"Honest" Answers Coming To The Offense
November 16th, 2023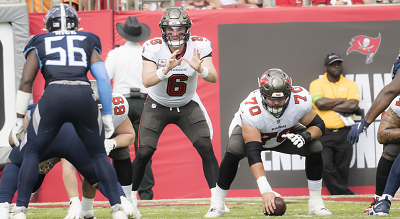 Can the Bucs offense handle the truth?
Playcaller Dave Canales went there today and explained that his unit must be prepared for an ultimate wakeup call — good or bad.
When you line up against the defenses of the Eagles, Lions and Sunday's opponent, the 49ers, you are going to learn exactly where you stand in your quest for greatness, Canales said with great passion in his voice.
"They tell you the truth about where you're at, and we have to be honest and OK with that response of what that is," Canales said. "So just calling all the boys to see this for what it is. 'Guys, these are championship moments that we have to relish as we finish down the stretch.'"
Joe loves how Canales said he has brought championship talk into the equation of leading his players this week. The 'one-game-at-a-time' chatter is fine, but the reality is that Sunday is a big game for the Bucs if they are serious about making noise in the playoffs. Stand toe-to-toe with the 49ers and play your best game. It might not be enough for a "W," but at least the team can learn a lot about itself and gain more confidence as the calendar moves into the holiday season.
Per Todd Bowels, the Bucs have dropped two "clunkers" this season.
Joe will believe the Bucs have a chance for a strong finish if they don't drop their third deuce of the season on Sunday. No excuse to get smacked around all over the field for 60 minutes.