Todd Bowles Updates Baker Mayfield's Thumb
November 13th, 2023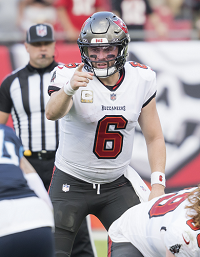 Anyone else find it odd that Baker Mayfield injured his throwing thumb late in the second half of yesterday's game and the Bucs didn't have Kyle Trask warming up on the sidelines?
Not even a soft toss?
That was odd considering how much the CBS cameras were focusing on Mayfield struggling a bit with his hand. He hit a Titans' defensive player's helmet on a follow through.
Mayfield was quick to say he was fine after the game, but players aren't always so forthright.
Today, on SiriusXM NFL Radio, Todd Bowles was very clear that Mayfield is in great health.
"He came out very good. I mean, he's not on the injury report," Bowles said. "He feels good. So we expect him to be ready to go."
Joe was so glad to hear that update. Mayfield is playing pretty well, and considering the Bucs have no running game, he is the key to the Bucs' division title chances.