Vita Vea Off The Edge
November 13th, 2023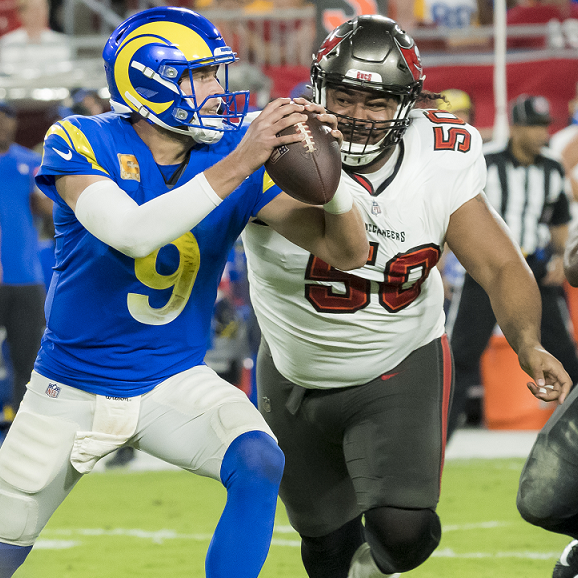 Yesterday wasn't the first time manbeast Bucs defensive tackle Vita Vea lined up as perhaps the largest edge rusher in the history of the NFL.
In past years, defensive guru Todd Bowles has had Vea take snaps on the edge and he did the same with Ndamukong Suh.
Vea's latest turn came at the end of the opening drive Sunday. The Titans had a long drive rolling and were in a 3rd-and-goal situation.
Todd Bowles said today that the Titans left tackle thought Vea would be running a pass rush game to the inside and appeared to lean that direction, which gave Vea a slightly easier route to the quarterback off the edge.
As you can watch below, Vea bull rushed the tackle as if he were JV player and grabbed Tennessee QB Will Levis with one hand and brought him down. Vea makes it look a lot easier than it is. Yeah, he's that strong.
Quality trickery by Bowles at just the right time. If rookie defensive tackle Calijah Kancey continues to be a handful for offensive lines, the Joe expects to see a little more Vea off the edge. It's a great way to confuse and/or overpower a defense.
VITA VEA 😤

📺: #TENvsTB on CBS pic.twitter.com/5woOtzwaxr

— Tampa Bay Buccaneers (@Buccaneers) November 12, 2023
Midseason flash poll posted at 3:55 p.m.