Todd Bowles Says He Won't Let Tristan Wirfs Run
November 13th, 2023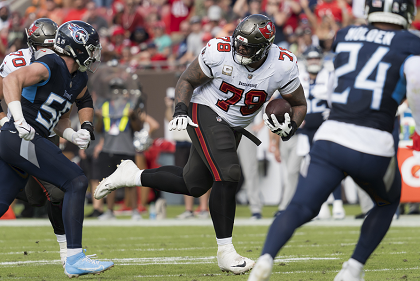 Most Buccaneers will tell you Tristan Wirfs is the most athletic manbeast they've ever seen.
Fans worldwide have seen video of Wirfs jumping out of a swimming pool with the brute strength of a giant kangaroo. Joe got laughs out of hearing other NFL players saying they could do that. Hmmm, somehow their video evidence never appeared.
Yesterday, Wirfs deftly recovered a Baker Mayfield fumble and took off. This was no overweight lineman rumbling down the field.
He was balanced when he scooped the ball off the turf, broke a tackle and then he looked like Rob Gronkowski, dragging a Titans linebacker for five yards.
It didn't count because NFL rules say an offensive fumble can't be advanced by another player, but what Wirfs did cannot be erased from Joe's mind.
Could Wirfs become a backfield option for the Bucs in short-yardage situations?
Head coach Todd Bowles poured cold beer on that idea today during his stidown with WFLA-TV sports chief Dan Lucas.
"No, we're not onto something. Somebody's going to have to block for [Wirfs] if he goes to the running backs and I don't think we have that guy," Bowles said.
The irony is that the Bucs' running game is horrid even with Wirfs blocking. Joe still can't figure out why the Bucs can't find four yards a carry running left behind Wirfs.
Oh, well. Joe will enjoy the memory of Wirfs carrying the football.
Maybe Bowles will change his mind come playoff time.