Not Since The 2013 Ravens
November 7th, 2023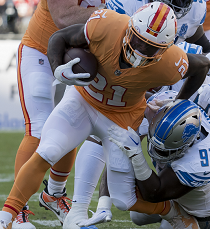 Some Bucs fans might not understand why fans like Joe rail about the Tampa Bay rushing attack to such a strong degree.
Is a great running game critical to NFL success? No. But when you do run the ball, it needs to be efficient. You know, converting in short yardage situations, running successfully in the red zone and grabbing at least four yards when you do hand off on first down.
Of course, it's legal to have a Pro Bowl-caliber running back and to break tackles.
As of today, the Bucs are averaging 3.1 yards per rush attempt. That's last in the NFL.
(Yeah, Tampa Bay has improved the past few weeks overall, running for a miserable 3.4 yards through those three games.)
Joe went the research route while manning the throne this morning and found that the last team to average 3.1 yards or less per rush attempt for a season was the 2013 Ravens.
Largely immobile Ravens quarterback Joe Flacco actually had one of his best rushing seasons while three-time Pro Bowl running back Ray Rice struggled mightily.
That's how bad it's been for the 2023 Bucs — 10 years since the NFL has seen anything like the Bucs' running game.
It's even worse than when former Bucs running Doug Martin had back-to-back seasons (2016-2017) of averaging 2.9 yards per carry.
Joe still hopes for significant improvement. The odds have to be in favor or Rachaad White having one breakout game this season. And surely somebody can figure out how to scheme close to average running behind Tristan Wirfs.