"I Can't Knock You For The Effort"
November 9th, 2023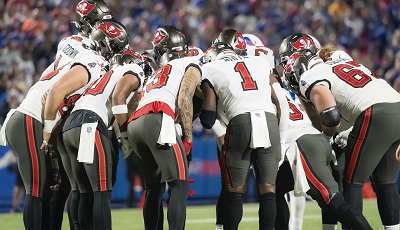 One theme today at One Buc Palace was the consistency of Todd Bowles.
He's simply not going to freak out and drag a bunch of extra issues into fire.
Offensive coordinator Dave Canales spoke about how much he appreciates Bowles always staying even and that Bowles' leadership is always about fooball, no "extra baggage," Canales said.
"The thing that I appreciate about Coach, and the thing that I'm grateful for my first time being a coordinator, is to be with a leader who just stays the same," Canales said. "And he makes it about the football. He doesn't get into any side stories or ulterior motives. He just says, 'Guys, let's just look at the things that failed in the game. Let's improve these things and move forward.' So that nobody has to carry any extra baggage for any other thing. It's just play. Do what you're asked to do. Do what you know how to do. Execute it at a high level. Play hard, you know. And that's the one thing he keeps telling the guys, 'I can't knock you guys for the effort you're giving in this four-game streak …"
Canales added that Bowles has been staying focused on fundamentals, telling the team good things will come if they stay focused on their basics and training.
Joe is glad that it seems Bowles isn't in freakout mode behind the scenes. But Joe also is alarmed that Bowles likes the team's collective effort yet the results have been so scary.