Inside Baker Mayfield's Work Ethic
November 9th, 2023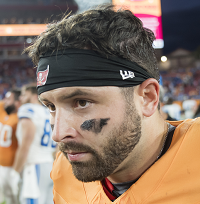 Cool nugget dropped by Buccaneers wide receivers coach Brad Idzik.
He was a guest last night on the Buccaneers Radio Network and was very Dave Canales-like in his optimism about the Bucs offense.
Idzik dove into ways that quarterback Baker Mayfield has the respect of teammates and isn't a QB on a pedastal receiving special treatment.
Idzik said Mayfield pushes players to know him personally, and that's a two-way street. "Baker feels like he knows each individual," Idzik said.
On the practice field, literally, Idzik said Mayfield gets into deep dialogue with all his receivers.
"We review every play. We have the little [tablets] out there to review the plays in practice immediately after," Idzik said. "And Baker's going from receiver to receiver about each play. 'Hey, here's what I see here; what do you see different?' So he's done a phenomenal job with that."
Joe can't ignore the surge of the Bucs offense — 45 points in the past five quarters. Though it hasn't looked smooth, it sure doesn't look like a fluke.
While the Bucs defense may be tuning out Todd Bowles a bit in his fifth season as Tampa Bay's defensive guru, it seems like the offense is a much hungrier and focused bunch — especially at quarterback.