Saving Todd Bowles
November 9th, 2023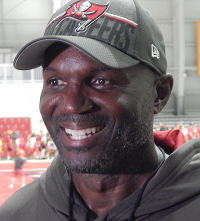 Joe is excited for the final nine games of this season.
Even if there are 15,000 empty seats at The Licht House on Sunday, Joe will be fired up.
Every sane Bucs fan knows Todd Bowles' future is on the line. As Sage of Tampa Bay Sports Ira Kaufman likes to say, everything changed when Bowles and the Bucs started 3-1. You can't put that winning toothpaste back in the tube.
If you start 3-1, then you're certainly good enough to finish with nine wins (9-8) barring major injuries. And the Bucs do not have major injuries. In fact, they're rather healthy by NFL standards in Week 10, and their quarterback is playing well.
The table is set beautifully for Bowles to save his job, even if he needed to call two busboys, a HAZMAT team and Florida's Elite Restoration to clean up the messes he's left over the past few weeks.
It's a true no-excuses situation for Bowles to win the NFC South and escape this season with a winning record.
The Bucs should/could be good enough to win their remaining four division games — two against Carolina, plus the slimy Saints at home and Atlanta on the road. Then there's Sunday's hosting of the Titans and a date with the Colts in Indianapolis at the end of the month.
Those are six winnable games to get to nine wins. And, of course, Bowles is always free to shock the world and beat ailing San Francisco, the sad Packers or the beastly Jaguars.
It's all in Bowles' hands and, Joe belives, it simply will require the Bucs to play to their capabilities. A head coach can't ask for more than that.
Bowles' future in Tampa is a very clear picture and a very clear path, which is sort of rare when a team is struggling at 3-5.
Joe likes the black-and-white nature of it all. Just win, Todd, or wave goodbye.