Todd Bowles Names "Most Underrated" Offensive Player
October 10th, 2023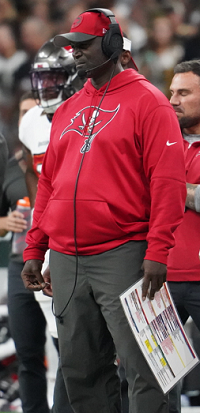 Joe loves when Todd Bowles issues a scouting report of sorts on one of his players.
When Bowles talks a little faster than usual and in short sentences, it usually means he's super high on a player.
The head coach went down that road with his second-year tight end on the Buccaneers Radio Network. Cade Otton seems to have won over his coach's heart.
"Cade is probably the most underrated player on offense," Bowles said. "He blocks big defensive ends. He blocks linebackers. He does all the dirty work. He doesn't catch the deep balls — has great hands, great receiving skills. It goes unnoticed when he gets the four- or six-yard catches. But he makes a play all the time. He's reliable. You know where he's going to be. He's tough. He's very smart. He's very instinctive. He had a great feel for the game and he's a great outlet for Baker."
Not bad for a fourth round pick!
Otton won Tom Brady's trust quickly last season and closed the 2022 campaign with 42 catches for 391 yards and two touchdowns.
Otton is now on pace for a slightly better season.