Todd Bowles' Breaks Down Antoine Winfield Greatness
October 7th, 2023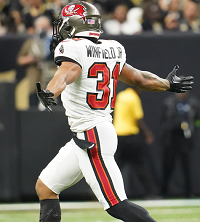 How much of a dream player is Antoine Winfield Jr.?
Todd Bowles let it all out, it seems, and Winfield's agent now has a sweet negotiating speech.
The Bucs' stud safety (in the final year of his contract) was on Bowles' mind during his visit to the Loose Cannons podcast this week.
"His thirst for knowledge is unbelievable," Bowles said of Winfield. "When he watches film and studies, he takes it to the field. Not a lot of guys can do that. It takes them a walk-through and a few days to get it; he can get it just like that. He understands the game.

"He's one of the few guys that really still loves to play and loves to practice. That's important. He plays like he practices. He doesn't play half-speed in practice and then turn it on in a game. He plays like that every day. He warms up barefoot. …. He takes care of his body, blitzes like a linebacker, covers like a corner. He has awareness when he tackles. He's our best open field tackler. … He does so many things for us. It goes taken for granted sometimes."
What an endorsement that was. Wow!
Joe was very intrigued by Bowles lamenting that not a lot of players love to play and to practice. It's an interesting comment on many levels, especially considering Tom Brady was the Bucs' quarterback the past three seasons.