"There's No Extra BS"
October 7th, 2023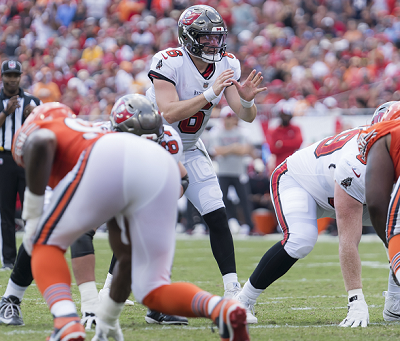 The Bucs have become one of those organizations, the kind that doesn't have a bunch of drama, arrests, side shows, etc.
It wasn't like that last season.
Hey, that's no knock on Tom Brady, but the guy was a walking soap opera in 2022. Also, the season sort of started with th iconic head coach quitting in late March.
In years past, the Bucs were fine re-signing bad character dudes like Jerramy Stevens. And other Lost Decade gems included additional troubled players. Guys like Austin Seferian-Jackwagon and Doug Martin had public issues, others had private problems.
This edition of the Bucs? It's almost like a dream team of players yearning for Ws and not much else.
Baker Mayfield told The Rich Eisen Show this week that he felt that from Day 1 in Tampa.
"Everybody's on the same page. It's all about winning. There's no extra BS. It's just a great group all-around," Mayfield said.
Mayfield also reiterated things he's said about how the Bucs impressed him from the top down in ways unlike at his three prior teams. Obviously, the Rams have a respected front office and head coach, but they had personnel issues brewing when Mayfield arrived last year in a lost season.
Sure, there was the Devin White winter trade demand, but that sure evaporated quickly. And White even hopped on social media last month and called himself foolish for wanting out.
"No extra BS." If that's indeed the Bucs' identity, it sure sounds like Todd Bowes.