Shaq Barrett Explains The Bucs' Standard
October 7th, 2023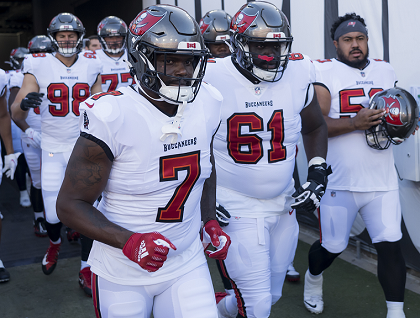 Joe is always intrigued when a Bucs player explains what expectations are inside the walls of One Buc Palace.
Bucs sacks king Shaq Barrett went there this week on The Jim Rome Show.
Shaq talked about the Bucs playing to an in-house standard, and Rome asked him to tell the nation what that standard is.
"You gotta be accountable. You gotta have your accountability. You gotta have thick skin to be out there. You gotta be able to take criticism," Shaq said.

"And you just have to execute your job; Coach is putting us out there expecting us to be able to execute the playcall that he calls. No matter what the play is he knows that he has 11 guys out there that he has faith in. So when that time comes for you to make your play, you make your play. Stuff happens; you might miss a tackle every now and again, but we don't want that. We want people that's able to come in and be able to rise to the occasion. And when it's time to make that big play, be there and make the play. So far this season, there's not too many people on our defense that haven't made a play yet for our team."
If Joe were translating Shaq, Joe would say the Bucs' standard is to shutup, man up, work hard, pay attention, do exactly as your told, and you better rise up to execute at a high level when your opportunity arises.
Joe thought it was interesting that Shaq didn't talk about playing for teammates or fighting for each other; his focus was on accountability and execution.