Report: Derek Carr Will Start For Saints
October 1st, 2023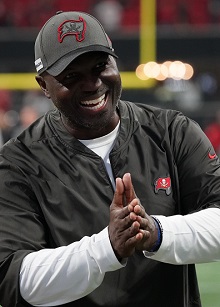 Well, it seems the Bucs won't get a backup quarterback today — at least not right away.
Four-time Pro Bowl quarterback Derek Carr, new leader of the slimy Saints, is expected to start despite a messed up throwing shoulder sprained during a sack last Sunday, reports longtime Saints beat writer Jeff Duncan of Nola.com.
Apparently, Carr felt no pain during yesterday's Saints walk-through practice and handled first-team reps in that session. So does that mean he was in pain on Friday?
Part of this feels like a scam. Part of this feels like a first-string QB desperate not to let his hungry backup, Jameis Winston, get a chance to spark a struggling Saints offense.
Regardless, the Bucs have to get after the quarterback today for a chance to win. If Carr gets time, he has too many talented weapons for a banged up Bucs defense to handle.
Joe expects this development means Todd Bowles might be blitzing more than usual today. An early hit on Carr could get in his head.