Nick Leverett In The Spotlight
October 24th, 2023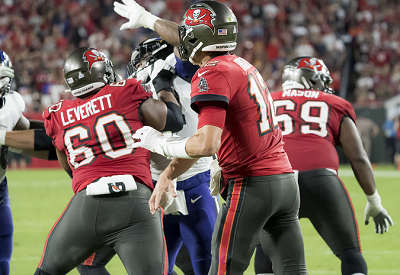 So who will replace injured left guard Matt Feiler in the starting lineup on Thursday night?
As Joe wrote earlier, Feiler has a bad knee and the Bucs play Thursday night on four days rest. They fly out tomorrow. Joe would led the elder statesman of the Bucs' line, 30-year-old Feiler, sit the game out. Hell, the Bucs are underdogs and backup Nick Leverett has plenty of solid starts under his belt.
He was very good in emergency duty at left guard during the Bucs' thrilling win at Indianapolis in 2022, and Leverett was strong early in his 10-start run when he replaced benched rookie Luke Goedeke last eason.
The Bucs also have Aaron Stinnie, the veteran best known for his starts at right guard in three Bucs postseason games during the glorious 2020 season.
Yes, the Bucs should be deep (in theory) at left guard. It's a great time to test that depth.