Lions 20, Buccaneers 6
October 15th, 2023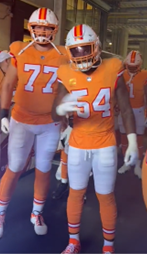 Our first-place Buccaneers aren't ready for primetime.
The offense is stuck in 2022 and the defense isn't good enough to overcome it against a powerful team. That's the Lions, the club that smacked around Tampa Bay today — with maybe 20,000 blue-clad Lions fans invading The Licht House.
Detroit had more big catches, precision throws and too much power in their defensive front for the Bucs. By contrast, the Bucs had no edge rush, slippery hands in the receiving game, their trademark anemic run game and a too-often porous secondary.
After three quarters, Lions QB Jared Goff was 21-of-32 with two touchdowns and no interceptions. Nobody knew it then, but the game was over.
The Tampa Bay offense had no response, flatline.
Before this game, the Bucs had relied on turnovers. Those didn't come today and the Bucs offense had no answers.
A big Mike Evans drop on third down hurt, as did Baker Mayfield overthrowing Trey Palmer on a deep shot and having a wide open deep shot to Evans batted down at the line of scrimmage. There were other shoddy connections between Palmer and Mayfield and some odd playcalls for Deven Thompkins in key moments. The young receivers had a forgettable day.
It's said that football is a game of inches and big plays. Well, the Bucs just weren't up for the big moments.
Maybe it was rust off the bye week. Whatever it was, it was inexcusable.
Joe's hat is tipped to Lavonte David for playing like he was 10 years younger, and rookie defensive tackle Calijah Kancey looked like a real impact player in his return to the lineup after 11 snaps on opening day. Kancey got his first career sack in the fourth quarter.
The good news? NFC South rival New Orleans lost to the Texans and Atlanta lost at home to the Commanders. Both are 3-3 as the Bucs sit at 3-2, good for first place in the division.
The Bucs host the Falcons next Sunday.