Third-Down Greatness Crumbles
October 15th, 2023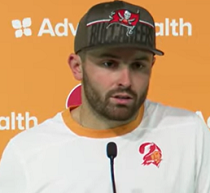 Rough, rough day today for Baker Mayfield, his first clunker in a Tampa Bay uniform.
Maybe it was those annoying orange uniforms from the last century? Something turned Mayfield, who was spectacular on third down all season, to the guy leading a Bucs offense that converted only 2 of 12 third downs against in a blowout loss to the Lions.
Mayfield had two batted balls in the first half. One was a costly interception — and a lost touchdown opportunity to Mike Evans — which was on first down.
The third-down dominance of Mayfield entering this game was unsustainable. He had been up around an 80 percent completion rate. So Joe isn't surprised from a numbers standpoint, but it's never good to see an offense's execution get so ugly as it did today. At home. Coming off a bye week.
Not being able to run on third down certainly doesn't help. But with Chris Godwin and Mike Evans, the Bucs should never be 2-of-12 on third down.
Hopefully, it's a learning-curve game for first year offensive coordinator Dave Canales, rather than NFL defenses starting to catch up his unit.