"He's At Home Now"
October 2nd, 2023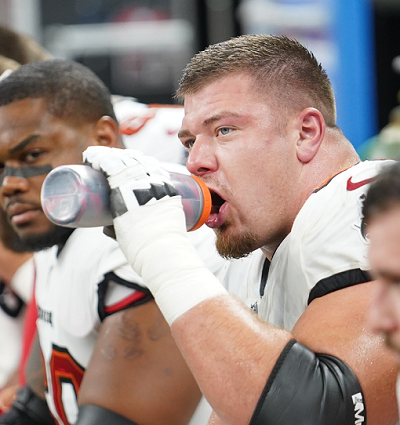 Hey, sometimes development and evaluation take time.
Fans don't want to hear it, but that's reality. The Bucs are enjoying the fruits of that NFL fact right now.
Joe wrote early this morning about right tackle Luke Goedeke winning his clash yesterday with future Hall of Fame defensive end Cam Jordan, a man who has made the past six Pro Bowles.
Todd Bowles joined the Goedeke chorus this afternoon. Goedeke, a Bucs 2022 second-round draft pick, had a rough time at left guard last season and lost his starting job. Then he got to start at right tackle last season in Week 18 when Tristan Wirfs and other starters rested for the playoffs.
He shined there at his old college position, and the Bucs didn't look back.
"Luke has played well the last four games. I mean it wasn't just this game," Bowles said passionately. "Cam [Jordan] is a great player, obviously. Luke's a lot more comfortable at right tackle; he's at home now. He understands it. He loves the scheme. He works as hard as anybody, him and Tristan [Wirfs] worked out together all summer. And he's holding his own. You don't notice him because he's not giving up many plays. He's doing a heck of a job for us."
Joe loved that "he's home now" line from Bowles.
Joe sure hopes Goedeke is home. That would mean the Bucs have one hell of a tandem of 24-year-old tackles. Somebody ice up a cold celebratory Big Storm beer for general manager Jason Licht.